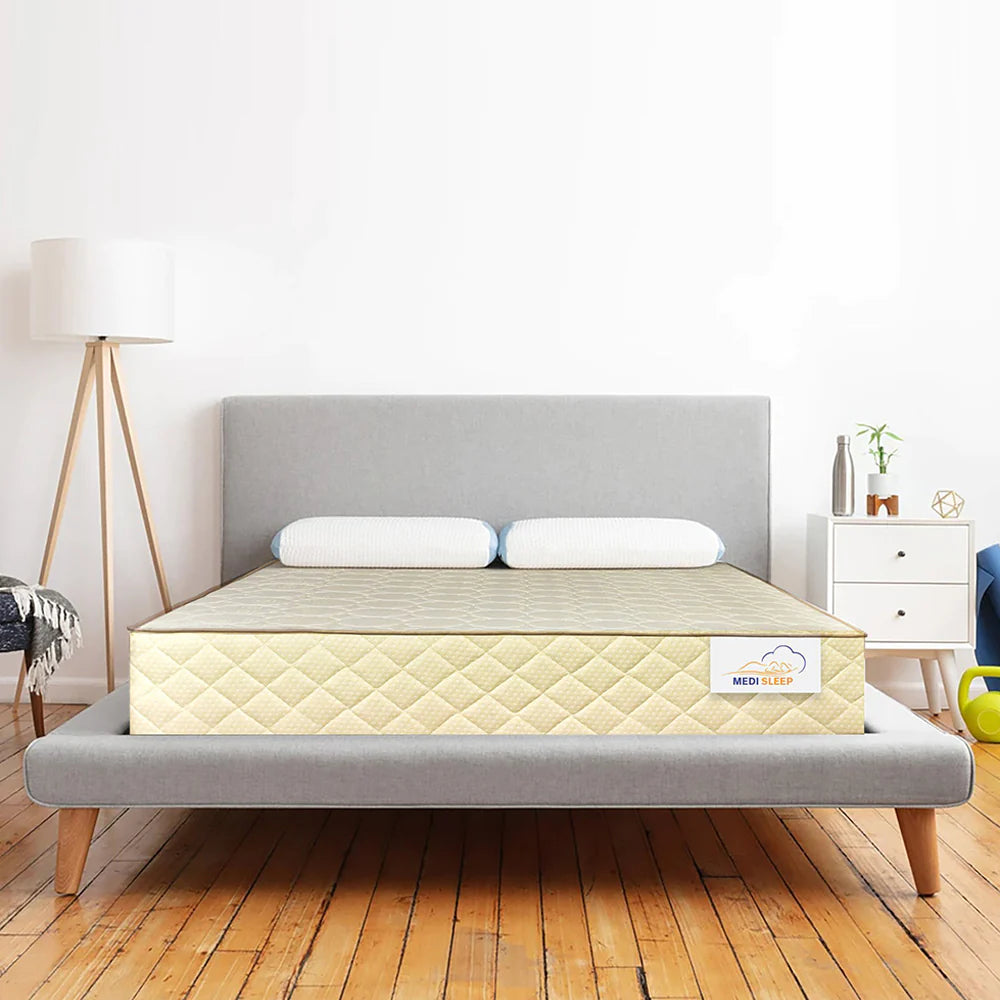 Get the best Baby Mattress Online on Medisleep that brings the excellent quality of mattresses online in India. This comes under the top site for buying the best quality mattress in India that provides the comfort of foam quilt coupled elasticity, and strength of pocket spring, and felt layers. The layers consist of a foam quilt made of quality foam, and known for its attractive appearance, color fastness, and durability. All the mattresses ensure pocket spring, felt, and foam layers make up the core of this mattress, and provide the elasticity, and comfort for a luxurious experience with enhanced blood circulation. The layers are wrapped in elegance with knitted fabric that bestows the aura of appearance, and luster to the mattress. 
Memory Foam Firm Baby Mattress Technology
Medisleep- Medisleep comes from the house of SKJ Rubbers with a legacy of years of experience in the Mattress industry also it arrogates to be the first brand to manufacture rubber foam in northern India. Designed and created scientifically, in the state-of-the-art plant, Medisleep mattresses speak best for the rejuvenating benchmarks, your body can ever achieve.

Our company is an ISO 9001:2008 CERTIFIED COMPANY moreover, our latex foam products are ISI 1741:1960 certified, which proves our commitment to quality in all our operations.

Every product designed by the brand is centered on creating healthy and relaxing sleeping solutions. If new player stands for innovation, the old player stands most adept for originality, the master manufacturer of the category, the best in class, far above the expectations, not only because old is gold, but also because the oldest knows the work inside out.

Medisleep, being one of the oldest and the most premium player in the category not only represents originality but also represents the ability, the power to perform and serve best, before and after the association
Medisleep brings an innovative, and intelligent foam technology that smartly adapts to any body shape seamlessly providing personalized comfort, and orthopedic support based on each body's weight, height, and sleep position. Memory foam Firm baby mattress isolate, and absorb any movement on the mattress to achieve a desirable zero motion transfer. The outer cover is made from breathable fabric that wicks moisture, and dries quickly, it is abrasion, and pilling-resistant. It can be removed easily with a zipper to be washed. 
Best Platform for buying Baby Mattress
Medisleep offers an ergonomic baby mattress that also comes with a soft, high quality cashmere fabric cover that has been specially treated to keep your skin hydrated, and looking youthful. This makes the best platform for buying Mattress online in India. The top layer of the firm mattress infuses temperature sensitive memory foam, which not only responds to your weight but also your body temperature, and molds itself to take the shape of your body. The layer responds accurately to pressure; the more pressure your body exerts on the mattress, the more it reacts to support you. 
Medisleep baby mattresses are available in different sizes, and shapes including queen & king size. This is easily possible to get your own personalized one that is a perfect fit for your bedroom, and comfort zone. This includes the best design for individual sleeping needs specifically. You can easily opt for a custom one & have the right kind of product available at your doorstep. With layers of best-in quality, and includes breathable fabric, differential pressure zone, and high resilience foam all embedded into one the perfect mattress. 
Buy Baby Mattress Online
Medisleep is the best platform for buying a baby mattress online that creates the right mix of support, and responsiveness so you get the utmost comfort while sleeping. The soft touch fabric cover is luxuriously soft. It is antibacterial, breathable, and resilient. You get undisturbed sleep no matter how much your partner moves around at night, thanks to our No Motion Transfer mattress feature. Additionally, extra thickness in a mattress, offers extra support for you depending on your weight. The pen-cell memory foam firm mattress offers contouring, while the high density base layer offers support. Comfortably priced, without any compromises on quality, it's the perfect mattress for you.