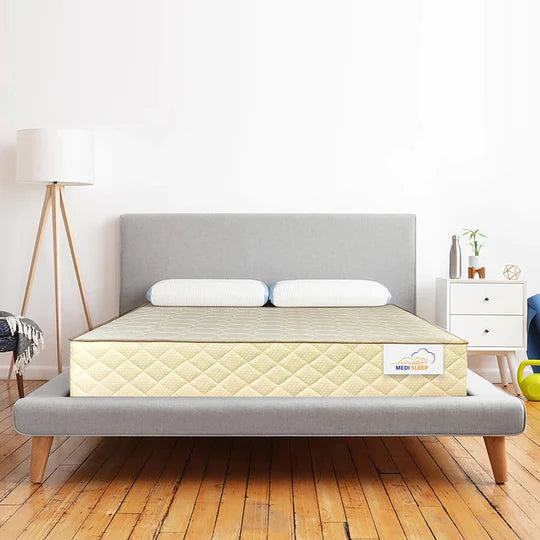 If you're looking for the best Mattresses online in Chennai then explore our online store range of Mattresses at Medisleep. We offer the best memory foam mattress for the best sleep. There are the wide varieties, and different sizes, and colors that give you the best sleep. The mattresses are available in different sizes, and shapes including queen & king size. This is easily possible to get your own personalized one that is a perfect fit for your bedroom, and comfort zone. This includes the best design for individual sleeping needs specifically. With layers of best-in-quality, and includes breathable fabric, differential pressure zone, and high resilience foam in a reasonable price range. 
Best Memory Foam Mattress Online 
Medisleep offers the best memory foam mattress in Chennai that suits your sleep, and bedroom area. With our mattress anyone can comfortably spread the weight of their body that is beneficial for you, and reduce their body pain or increase the sleeping quality. Medisleep allows long-lasting comfort while making sure the mattress remains strong, and flexible. All the mattresses have a high density that is supportive, and heavier that keeps weight off pressure points. 
Best Features Mattresses
Medisleep brings the top design mattress that is durable, supportive, and boasts a cleaner look. This comes with increased elasticity that makes it more functional, and supportive. This has high-quality knitted fabric that reduces the chances of shrinkage, and ensures improved support, comfort, bounce, and resilience when compared to other foams. This ensures a quality sleep, and comes with other memory foam online in a competitive price range. 
Mattress Shop Chennai 
Medisleep is the best shop, and platform to buy the mattress online in Chennai that comes with the best quality, and two layers of foam that is usable on both sides. The mattresses are 100% organic, and are available in various sizes, and easily delivered to all major cities. This is a sustainable option for responsible citizens, and immense health benefits, and improve the quality of the sleep as well. Our products undergo multiple tests at every stage of production to create mattresses that spell luxury.