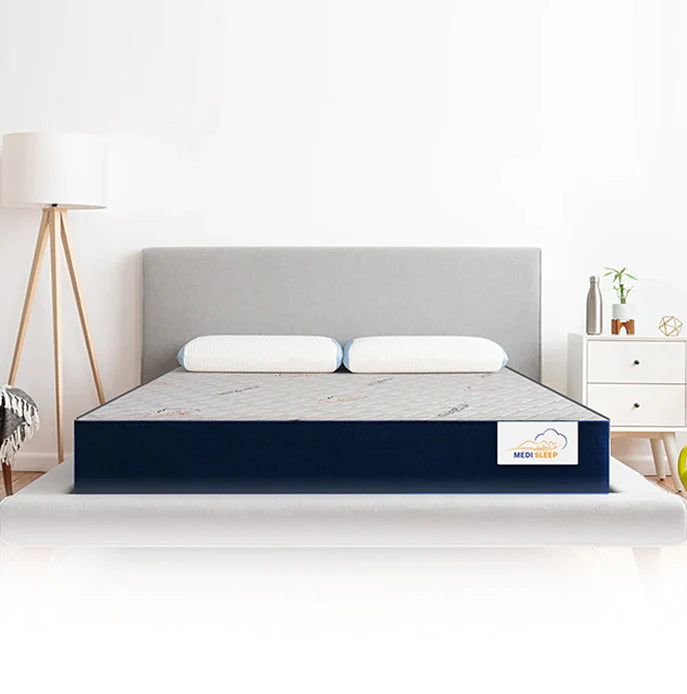 Hybrid Latex Orthopedic Mattresses are highly supportive orthopedic mattresses that contours to all 5 zones of the body, providing optimal pressure relief. It is the best mattress for your back that is a highly supportive orthopedic mattress. These mattresses are often slightly more cost-effective than other all-natural latex mattresses. But the life span is much longer than the other mattresses. The latex mattress helps in relieving pain, low maintenance, eco-friendly, breathable, and durable. 
These Orthopedic Mattresses are designed with a supportive foam layer that conforms to your body, and protects your spine as you sleep. By reducing the sinking sensation you get while sleeping on a normal mattress, an orthopedic latex mattress will help in maintaining spinal alignment. This also ensures correct spinal alignment to help alleviate stress on the spine, and reduce back pain. Medisleep offers the best in quality Orthopedic Memory Foam Mattresses in all over India. The collection of these mattresses enables ladies to get up from the bed with enough support, just like a latex mattress.
List of 10 Hybrid Latex Orthopedic Mattress Online In India that includes- 
1- Medisleep 7 Zone Latex Mattress (Price- Rs. 7,884)
Medisleep Hybrid Latex mattress comes with medium firm and bouncy feel. It has premium quality high GSM spun knitted fabric. It is recommended to use with the latex foam side facing up, but can be used on either side. 
2- Huzz Coolzen Mattress (Price- Rs. 19,549)
The mattress is truly reversible. It offers a medium firm feel whereas the other offers a firm feel. This uses ultra-soft, knitted fabric cover which is cool to touch, super absorbent, dust mite, and allergen resistant. This features zero partner disturbance technology which ensures comfortable sleep for you even if your partner is jumping on the other side of the bed. 
3- Comforto Siesta Mattress (Price- Rs. 112,595)
This mattress has medium soft & medium firm and ultra-premium cover with 3D air mesh fabric on borders for superior comfort & increased air circulation. It can easily be compressed, rolled, and delivered in a smart bag. 
4- Livpure Smart Jeeva Mattress (Price- Rs. 16,935)
This mattress comes with 100% natural latex and certified latex with plant oil derived organic foam based mattress. It is infused with citrus fragrance for a fresh sleep all-season. Mattress comes with premium aesthetics fabric with zipper removable cover mattress. 
5- Springfit Club Class Natura Mattress (Price- Rs. 27,391)
This mattress comes with the advanced sleep technology for your sleep. It has a single size for luxury comfort with a cushy surface that gives you the feeling of floating and weightlessness. This also offers pro-adaptive support by intelligently adapting to body shape. 
6- Nestin Green Pocket Mattress (Price- Rs. 8,663)
The mattress has a premium pocket spring mattress with certified pure latex top layer. It is made with thicker wires, and gives perfect support to your back for everyday use. It has 100-density certified natural latex top layer that gives you perfect back alignment and support while you sleep. 
7- Boston Organic Mattress (Price- Rs. 77,990)
This mattress is 100% pure certified natural latex that is a pure botanical product. It contains absolutely no synthetic latex or fillers and is made through the dunlop process with pin cores for increased breathability. It is more absorbent than cotton, softer than silk and cooler than linen. It helps to regulate your body temperature throughout the night. 
8- Sleepsmith premium Mattress (Price- Rs. 9,739)
This mattress is infused with active graphite to dissipate any excess heat. The energetic carbon particles in the blend also keep the air surrounding the mattress clean and antibacterial . It has pen celled air memory foam that creates the perfect snug feeling to make optimum support, and relieves pressure. 
9- Wakefit Mattress (Price- Rs. 11,799)
This mattress comes with high-quality memory foam. It uses the latest technological innovations for excellent back support, and removable outer cover. It includes a next gen memory foam, responsive foam, high resilience foam with breathable premium fabric. 
10- Restolex Active Ortho Mattress (Price- Rs. 12,825)
This mattress includes built-in active ingredients to resist the growth of microbes. The special high density foam provides the support of all types. The memory foam distributes body weight evenly, like having billions of little springs supporting you. 
Get the best Hybrid Latex Orthopedic Mattress from Medisleep that offers premium quality, and stands for innovation. Explore more, and find solutions that work for you in creating the perfect home.