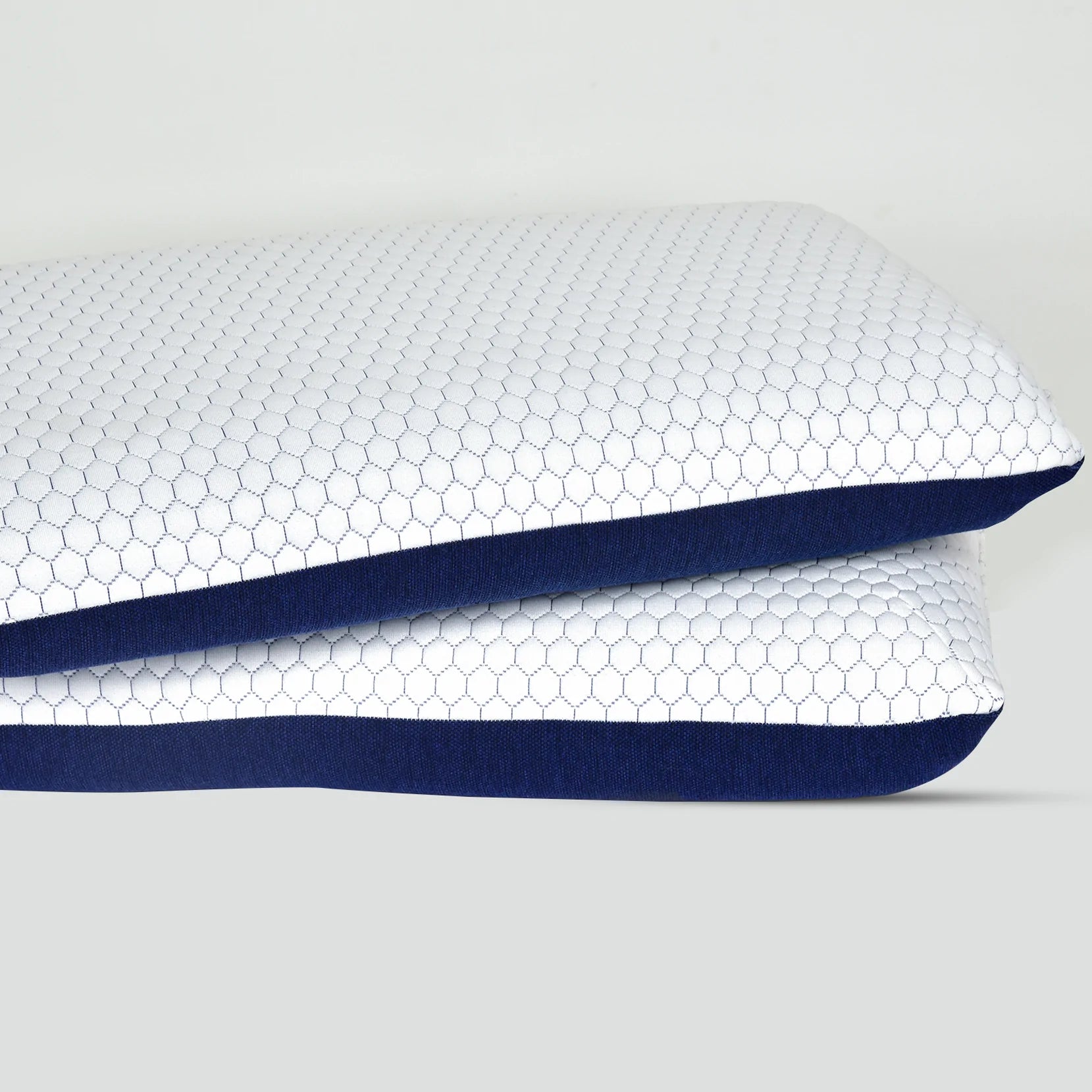 A soft comfy pillow is a must for a relaxing sleep. Living Essence brings to you these pillows that will aid you in a relaxed and comfy sleep. Medisleep offers designed pillows that offer unmatched wellness, and comfort. This pillow molds easily and holds its shape to align your head, and neck to help relieve pressure points. These pillows provide maximum comfort while sleeping and are ideal for all positions to mold to the best shape of a child's body to give them a peaceful night's sleep after a long day of studies and fun. Give yourself the levels of comfort from the Medisleep Memory Foam to suit your sleeping style. Choose between the high & low elevation contours on one side, or the flat profile to match your sleeping style, while ensuring perfect spinal alignment. 
Medisleep Memory Foam Pillow also provides lumbar support, and orthopedic benefits that helps to relieve stress, and maintain body posture. This is ideal for back sleepers, these pillows are filled with polyurethane, and enveloped in polyester. This comes with various designs and colors that add more style. 
Let's discuss about the Memory Foam Pillow that includes- 
Medi-sleep Memory Foam Pillow
This Medi-sleep foam pillow adapts to the contours of the body by taking the shape of head, and neck, relieving pressure points, and letting you forgo all pains, and ache. Its body adaptive feature gives maximum support to the neck, spine, and shoulders. It is antimicrobial: more than 99% resistant to dust and mites. This comes with a 3D design 250 GSM Organic knitted cotton cover which provides an extra-soft feel. 
Soft Touch Memory Foam Pillow
This Memory Foam Pillow has highly supportive & comfortable support so that your head doesn't sink in too much like ordinary pillows. 
Cervical Memory Foam Pillow
These pillows are designed to offer confirmed support, relieve neck, shoulder, and back pain. This provides you with comfortable support for your neck, and relaxes neck pain, and stiffness. With the firm memory foam pillow, you can sleep in a healthy position and relieve stress. 
Orthopedic Memory Foam 
This memory foam medium-firm supportive feel, and comes with open-cell memory foam, soft touch bamboo fiber fabric cover. 
Medi-Sleep Memory Foam Pillow 
The regular memory foam bed pillows infused in cooling gel provide extraordinary cooler comfort, and favorable sleep climate. Made with superior quality cooling gel memory foam, helps in regulating body temperature to bring an undisturbed, cooler, and calmer sleeping experience. 
Orthopedic Memory Foam Pillow 
This pillow helps in providing better neck support, and spinal alignment even while twisting, and turning. The machine washable outer cover is made with high GSM fine-knitted fabric that is dust, and mite resistant, anti-microbial, and antifungal. 
MY ARMOR Orthopedic Memory Foam Pillow
The Memory Foam Pillow for Sleeping is superior to cotton filled or microfibre pillows which sag or go flat soon after use. This pillow relieves pressure back pain, and provides neck pain relief. Made with 100% premium quality memory foam to provide long-lasting comfort. 
Shredded Memory Foam 
This pillow is designed for your sleep position that has the highest quality material and is made of super breathable hypoallergenic. This pillows the revolutionary hybrid, designed to give you the luscious feel of down, and the firm support of memory foam. 
Kroywen Memory Foam
This Memory Foam made of original viscoelastic memory foam with the special contour shape design, molds easily to your neck, head, or shoulders. The unique orthopedic surface of this pillow, will cradle your neck, and head in comfort to ensure proper spinal alignment, and restful sleep. 
Prime Cart Memory Foam Pillow
This revolutionary technology ensures the products that support your spinewell, while retaining their softness, and bounce for a long time. The pillow ensures that you get a perfect night's sleep. 
Medisleep brings a new generation premium quality patron memory foam pillow It has multi advantages, quilted microfiber layer with cotton top for extra comfort, and laminated sheet for 100% waterproof assurance. Improving your sleep quality, and giving you maximum comfort, our magic dream pillow comes with a filling, and cotton cover material.