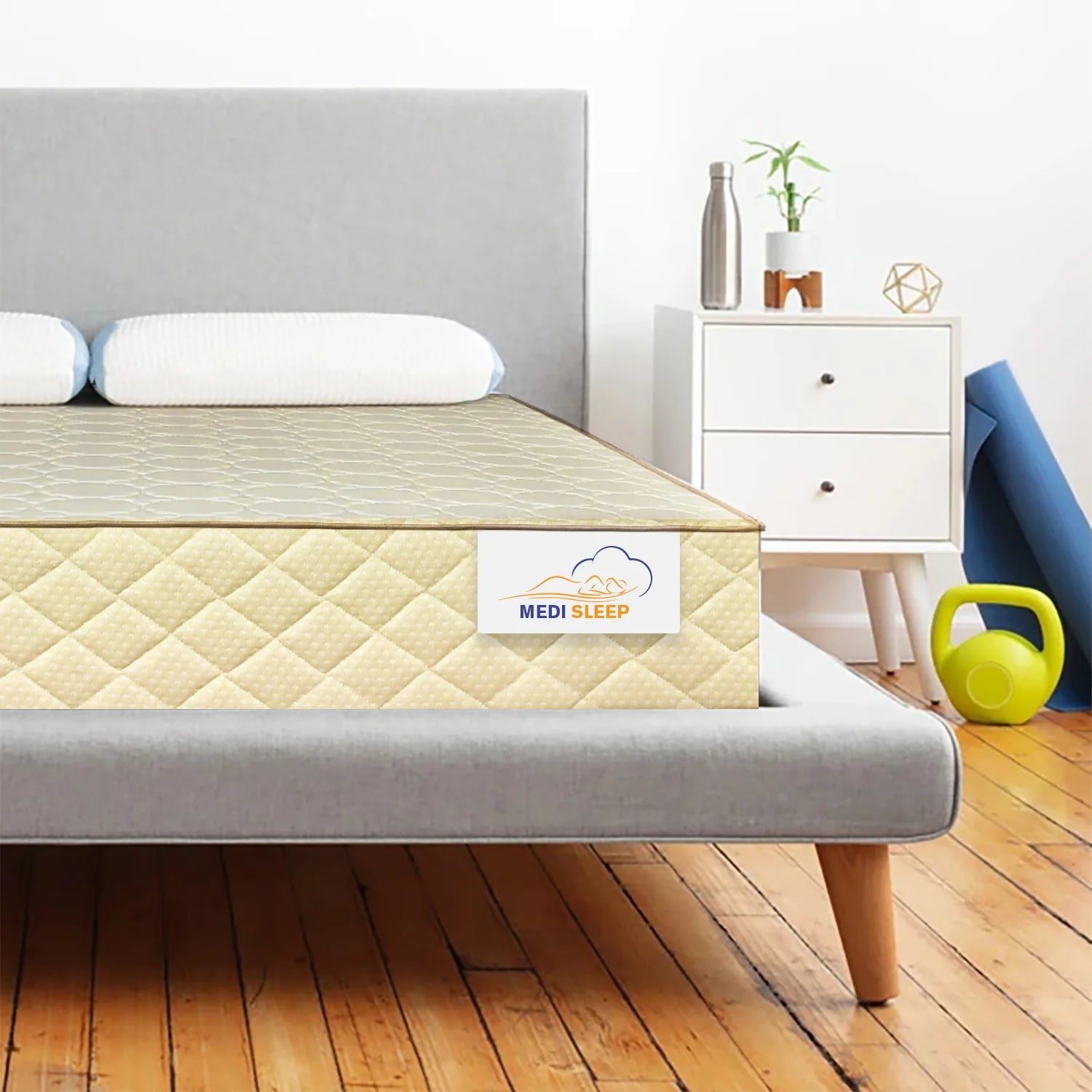 Queen-size bed is a better option than being uncomfortable, and constrained by a smaller size bed. This offers sufficient space for many people, and the optimal amount of space for "active" sleepers. Queen-sized mattress is a good choice for average-sized couples and individuals who like a roomy bed. This size is also good for smaller spaces, people wanting to maximize the living space in their bedroom. 
MediSleep offers the best Queen Size Mattress that are 60 Inches wide, and 80 inches long. This offers the same room lengthwise as the major difference is in terms of breadth. This offers a comfortable space for two people & is also ideal for a single adult who prefers more space when sleeping. If you are looking for a budget-friendly bed space for two adults, a queen bed mattress is a good choice. These offer much comfort, and enough room to accommodate two persons, while fitting properly in small bedrooms, and are more pocket-friendly, making them a great alternative for people looking for budget-friendly options. 
Top 10 Queen Sizes Mattress in India includes- 
1- Medisleep Solace Mattress 
This Mattress blends the responsive feel of our gel based memory foam with the firm support of Rebonded foam layer which keeps your Spine in healthy alignment to give you a relaxed & good night's sleep. A firm layer is designed to support the joints, back, and provide comfort to the overall body. Its firmness prevents sagging, which results in the mattress lasting longer. It provides soothing relaxation to the body by providing backache-free sleep. 
2- Wakefit Mattress
This mattress has medium soft, and medium firm on opposite sizes. It includes premium quality high GSM spun knitted fabric, and removable zippered external cover. This has the responsive foam, high resilience foam that can be usable for both sides. 
3- Morning Owl Soft Luxurious Mattress
This mattress is certified soft luxurious that features 2 premium layers of organic and natural latex with cotton and tencel covers. It is made with natural latex with pincore holes that helps keep the bed cool, and breathable even on humid summer nights. 
4- SmartGrid Ortho Pro Mattress
This mattress is a scientifically advanced orthopedic mattress built with a combination of patented japanese smartGRID technology, and a scientist-approved 5-zone orthopedic technology specifically designed to support your back, and provide optimum postural support. 
5- Emma Mattress
This offers the newest innovation mattress that has deep rest, and durability. It includes revolutionary freshlook pure foam for max comfort and support. This has the anti-allergic breathable cover with medium firm for all sleeping positions. 
6- Dreamer Orthopaedic Memory Foam Dual Comfort
This memory foam mattress is polyurethane and memory foam mattress that also includes a medium firmness, and comfort-enhancing miracle foam. It comes with an 11-year maximum warranty and is a great orthopedic mattress. 
7- Smart Luxe Mattress
The Luxe Mattress has an extra plush layer called luxio tec which enhances its core cushioning, and gives a cloud-like sleeping experience. The 2" smartGRID layer cradles pressure points, and facilitates more breathability with its 2500+ air channels. 
8- Duroflex LiveIn Orthopedic Memory Foam Mattress
This mattress is an advanced back support mattress featuring our signature 5 zone orthopedic support layer. It encourages spinal alignment and postural correction through its innovative engineering vacuum packed for a quick self set-up, the mattress is a convenient way to improve your sleep quality without compromising on the enhanced support. 
9- SleepyCat Ultima Mattress
This mattress comes with the perfect balance of comfort & support. Ideal for those who prefer to sleep on their side and stomach & are looking for cooler and supported rest. It supports different parts of your body that require different levels of support. 
10- Livpure Smart Duos Reversible HR Foam Mattress
This mattress is manufactured with Doe Comfort science™ USA technology to guarantee the cooling comfort foam with superior breathability for a sweat free sleep. It is 3d sleeptech computerized CNC 3D zones customized for pressure relieving back support. 
Get the best mattresses at competitive prices on Medisleep that offers premium quality, and stands for innovation. Explore more, and find solutions that work for you in creating the perfect home.