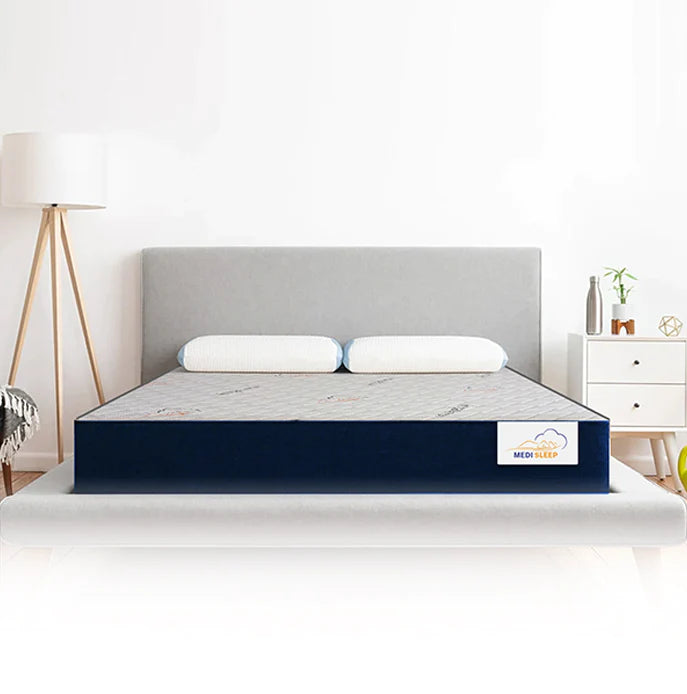 Get the best mattress for a side sleeper in India on Medisleep. This has the world's most advanced sleep technology mattresses for the best sleep, and comfort. This intelligently adapts to your body shape, and offers memory foam, smartgrid that are specially designed with the comfort technology. This has a snug softness for body-hugging comfort, and gives you the feeling of floating, and weightlessness. This offers no pressure support by intelligently adapting to body shape. This also provides better body posture support, and pressure relief as soon as you lie down. 
Get the Best Mattress For Side Sleeper on Medisleep -
Sleep Hybrid Mattress (Price - Rs. 20,000)
This Mattress comes with seven zones of targeted support for healthy spinal alignment. Softer foam around the shoulders provides more relief to the upper body. Multiple ergonomic points provide pressure relief under shoulders, hips, waist, and lower back. A firmer border provides edge support to help you get in and out of bed easily. 
Breeze Mattress (Price - Rs. 6,675)
This Mattress is made of Organic Pin core Latex & high resilience support foam, this mattress marks a new standard in Hybrid Latex Mattresses. We crafted this latex combination mattress to produce a simple but high-quality mattress that is comfortable, durable, and safe. This gives a unique balance of softness, and comfort with firm support for your spine. This is made using the Dunlop process, which is free from any fillers or synthetics. It offers the best-in-class quality, and a pleasant sleep experience. 
Solace Mattress (Price - Rs. 7,950)
This Mattress blends the responsive feel of our gel based memory foam with the firm support of Rebonded foam layer which keeps your Spine in healthy alignment to give you a relaxed & good night's sleep. A firm layer is designed to support the joints, back, and provide comfort to the overall body. Its firmness prevents sagging, which results in the mattress lasting longer. It provides soothing relaxation to the body by providing backache-free sleep. This comes with a comprehensive 7-year warranty, reaffirming our brand promise in the customer's mind for making the right choice, and investment. 
Original Mattress (Price - Rs. 6,175)
This Mattress compiles the benefits of responsive memory foam, and H.R. support foam that keeps your body, and backache-free to start your day relaxed & rejuvenated. This is designed to be breathable, with high levels of airflow to keep you & the mattress cool. The gel based memory foam consists of millions of cooling gel particles, which regulate air flow, and provide therapeutic support to the body. This provides great elasticity, and optimal supporting force that distributes the body pressure across to the entire surface that provides relief to pain points. 
Imperial Mattress (Price - Rs. 15,900)
This Mattress is made from 100% Natural Pin-core Latex, with air cores on both sides of the mattress, keeping you cool while you are asleep. This mattress comes with an organic cotton quilted cover, coupling the mattress with a lush feel, and unparalleled support. The latex layer gives a unique balance of soft comfort with proper support for your spine. This offers a unique balance of soft comfort with proper support for your spine. 
Get the best Mattress for side sleep at competitive prices on Medisleep that offers premium quality, and stands for innovation. Explore more, and find solutions that work for you in creating the perfect home.