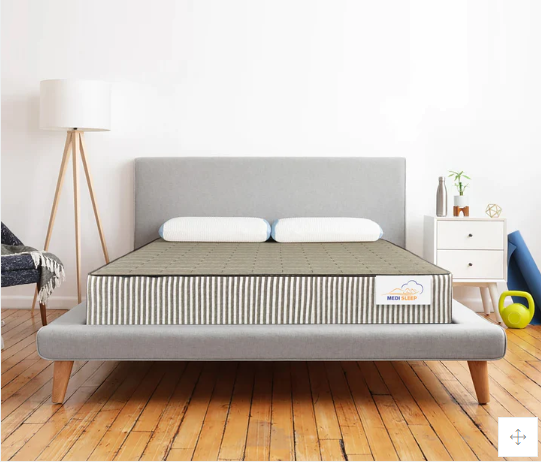 Medisleep offers the creatively crafted assortment of Mattress Covers, Home Curtains, etc. The offered range is tailored at our sophisticated manufacturing unit range and is tailored at our sophisticated manufacturing unit under the skillful guidance of our experienced professionals using high-grade fabric. These covers are provided in various color combinations, patterns, designs, and length as per the requirements of our clients. Our waterproof mattress protector enhances the beauty of your bedroom by providing a classy, and elegant look. 
Our Protector has an outstanding creation that looks rich, and works efficiently at the same time. This can be for double bed, single mattress protector, mattress protector king size, and mattress protector queen sizes are all hypoallergenic in nature. 
Medisleep offers a wide range of Mattress Protector, Mattress Topper, Pillows, Cushions, Duvet & Comforters, Bedsheets, Kids Blankets, and other home furnishing products. Hence the products offered are trendy, durable, and well crafted. 
Let's discuss about the waterproof mattress protector that includes- 
1. Home Dressing PVC Waterproof Mattress
This mattress protector has PVC water resistant mattress protector sheet for double mattress. Protects mattress from getting wet, and safeguards from stains. This durable PVC fabric is water resistant and built to last. 
2. Sleepyhead Bamboo Waterproof Mattress Protector
This mattress protector is made of polyurethane and protects your mattresses against liquid spills & stains. 
3. Bed King Size Mattress Protector
This protector has a cotton layer on the top that provides a smooth feel and keeps the sleeping surface cool. It absorbs all the natural moisture, and makes it easy to hold the protector with a mattress. It allows air to pass through but not the water, and helps you to maintain hygiene by protecting against any allergens like bacteria, pollens, dust mites, and any fluid. 
4. Medisleep Mattress
Medisleep mattress offers single bed, queen size, and king size mattress protectors are made up of top quality terry fabric which is soft, and attractive. It is stretchable in nature with a 360 elastic band. It is easy to put on and pull off. It is also breathable and keeps the mattress protector cool. This fabric absorbs the liquid and hence provides relief from moisture and perspiration. 
5. Mattress Protector
This Mattress Protector comes with elastic bands on all 4 corners, making it suitable for mattress heights ranging from 5-10 inches. All corners with dual elastic bands for easy tucking. The terry cotton surface is 100% waterproof, in addition to being breathable, and wrinkle-free. 
Medisleep brings a new generation Premium Quality Patron Waterproof Mattress Protector. It has multi advantages, quilted microfiber layer with cotton top for extra comfort, and laminated sheet for 100% waterproof assurance. To ensure a great fit, an elastic lycra is used on the side skirt to automatically pull excess material under the mattress.