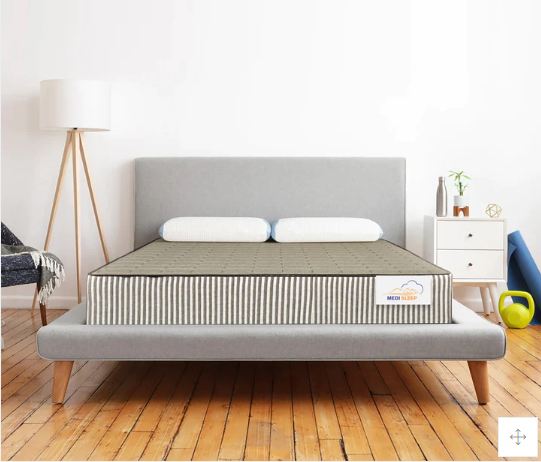 Get an ideal mattress for your body that maintains proper alignment of the bones, and muscles. Medisleep brings a range of mattresses online in India. This is suitable for all newly married couples, children, senior citizens, and everyone you can imagine. We offer a wide range of bedding products that are suited to your needs, and preferences. We ensure a highest quality mattress at the very best of prices, and are best in quality. 
The mattresses are available in different sizes, and shapes including queen & king size. This is easily possible to get your own personalized one that is a perfect fit for your bedroom, and comfort zone. This includes the best design for individual sleeping needs specifically. You can easily opt for a custom one & have the right kind of product available at your doorstep. With layers of best-in quality, and includes breathable fabric, differential pressure zone, and high resilience foam all embedded into one the perfect mattress.
Let's discuss about the types of mattress in India 2023-
Memory Foam Mattress
Memory Foam mattresses support the natural curve of the spine, which reduces stress and fatigue on the body, and helps reduce back pain. This provides remarkable support, and support. This will bounce back very slowly, and over time will remember your body shape, and optimal sleeping position. 
Rubberized Coir Mattress
Rubberized Coir mattresses are made from coconut husk and unprocessed rubber, lending them a very natural quality. This is opposed to the more common spring mattress that contains metal. The metal can act as an antenna that amplifies any electricity into your body, preventing you from having a peaceful sleep. 
Spring Mattress
This is also known as Innerspring mattress that is great for back sleepers, and for lower back pain. This offers far better airflow, which helps to keep the bed cool at night. This is also an ideal option for individuals who find that foam mattresses do not offer the support they need. 
Latex Mattress
Latex mattresses are among the most durable types of mattresses. This high durability is one of the many reasons for the high level of owner satisfaction with latex mattresses. 
Air Mattress
Air Mattresses are primarily used to prevent pressure injuries from occurring. This ensures adjustment of firmness, so people can custom inflate a mattress to suit their preferences. 
Waterbed Mattress
Waterbeds have medical advantages that innerspring mattresses do afford. Because a standard innerspring mattress is a nig source of dust within a home, a waterbed is an ideal solution that provides allergy relief. 
Orthopedic Mattress
The Orthopedic Memory Foam Mattress has the ideal ratio of softness, firmness, and support for every body shape, and every lifestyle. Our mattress adapts intelligently to all body types, and shapes, cushions it according to your posture, and alleviates pressure without compromising on support or stability. 
Get the best Mattress for side sleep at competitive prices on Medisleep that offers premium quality, and stands for innovation. Explore more, and find solutions that work for you in creating the perfect home.