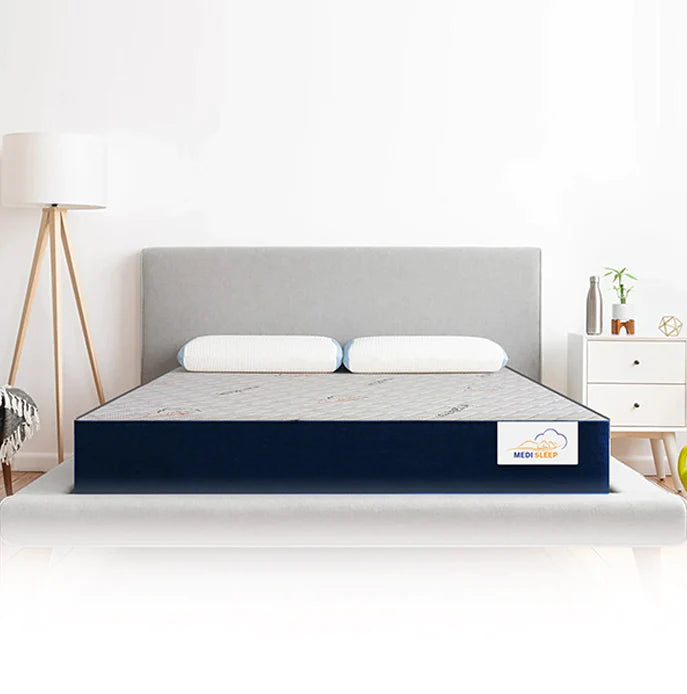 Side Sleepers tend to prefer foam beds, as they often do a better job of conforming to the shape of the body. People who tend to sleep hot at night may wish to opt for a spring mattress. Moreover, foam is the best option for you, with either memory foam or latex foam serving the purpose. 
Get the High Resilience (HR) foam Mattresses online in India on Medisleep. We offer best foam mattresses that are designed as the perfect combination of comfort, and therapeutic support. All the foam mattresses are made with 100% HR pure foam with soft quilted covering. Premium soft foam provides comfortable support to natural body posture. 
MEDISLEEP MATTRESS
We bring an ideal mattress for your body that maintains proper alignment of the bones, and muscles. Medisleep brings a range of mattresses online in India. This is suitable for all newly married couples, children, senior citizens, and everyone you can imagine. We offer a wide range of bedding products that are suited to your needs, and preferences. We ensure the highest quality at the very best of prices, and are best in quality. 
At Medisleep, you will get the excellent size of medium firm mattress online in India. You can get a medium firm mattress shape, size, thickness, and other elements as per your sleep requirement, and other factors. All the mattresses are made with the super soft foam, EPE foam, HR Foam, Memory Foam, Rebonded Foam, PU Foam, Latex Foam Natural, and Coir. This Mattress offers a medium firm custom size pad that has the perfect sleep solution for indoor, outdoor, or RV convenience. The lightweight but extra firm cushion is flexible, foldable, portable, and totally comfortable. Target pressure points, and regulate your body temperature as the gel-infused topper provides a breathable base for your tired, achy back, and spine. Traditional king, queen, double, full, and twin mattresses waste space, and are hard to store, and transport.