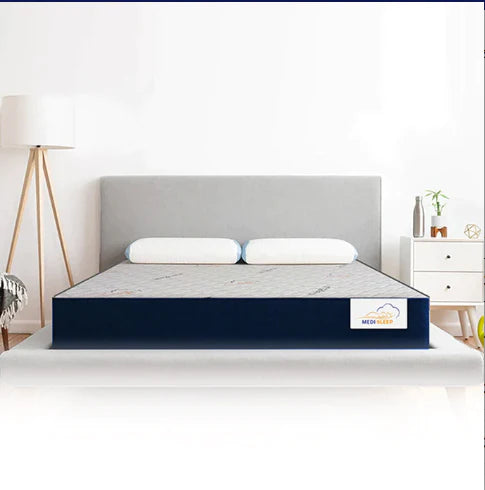 Medisleep offers the best original luxury mattress for all age groups. The orthopedic memory foam has the ideal ratio of softness, firmness, and support for every body shape, and every lifestyle. Our mattress adapts intelligently to all body types, and shapes, cushions it according to your posture, and alleviates pressure without compromising on support or stability. Specially designed with your sleep needs in mind, our orthopedic mattresses are made with premium quality materials, and next-gen memory foam that gives optimum support & comfort while you sleep. 
The mattress are available in different sizes, and shapes including queen & king size. This is easily possible to get your own personalized one that is a perfect fit for your bedroom, and comfort zone. This includes the best design for individual sleeping needs specifically. You can easily opt for a custom one & have the right kind of product available at your doorstep. 
Orthopedic Mattresses ensure correct spinal alignment to help alleviate stress on the spine, and reduce back pain. An orthopedic mattress helps you to adopt the correct posture as you sleep, promoting healthier blood circulation throughout the night. The mattress are typically recommended for people who sleep with pain, people who are typically recommended for people who sleep with pain, people who are in active recovery from injury, seniors, and athletes or other people who are active. 
Memory Foam Good For Orthopedic 
Memory foam is visco-elastic material which is naturally suited to orthopedic mattress. It's a temperature-sensitive material, so as soon as you lie down the memory foam will start reacting, and molding to the shape of your body. This is perfect for an orthopedic mattress because it provides full body support. These mattresses are designed to provide extra support to areas of your body that might need them, such as your back or joints. This helps to provide a comfortable sleep throughout the night, in particular for people who suffer from back problems. 
For Whom An Orthopedic Mattress Good
An orthopedic mattress is good for people with pain, people with chronic conditions, people recovering from injuries, seniors, and active people. 
Orthopedic Mattress Last Long 
Orthopedic mattresses are designed with high-quality materials, so they are generally pretty durable, and last at least 7-10 years.