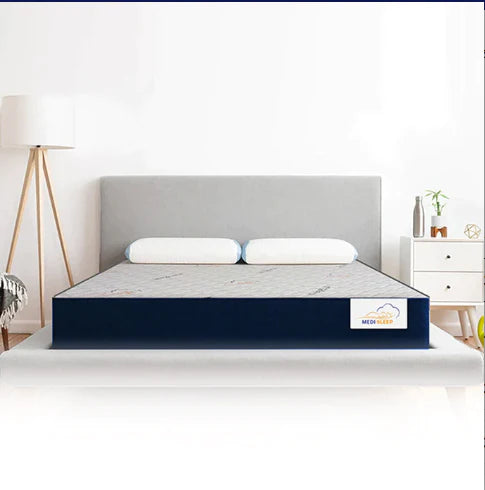 Medisleep ensures a highest quality mattress at the very best of prices, and is best in quality. Our mattresses are constructed of materials that are of exceptional quality manufactured in house. Our mattresses stay comfy, and supportive over time. Designed by our team of sleep experts & engineers having vast experience in the mattress industry. This is easily possible to get your own personalized one that is a perfect fit for your bedroom, and comfort zone. This includes the best design for individual sleeping needs specifically. You can easily opt for a custom one & have the right kind of product available at your doorstep. 
10 inch Mattress Price in India
10 Inch Mattress price is starting from Rs. 12,999-51,999 in India. The materials used to create a mattress are a significant factor in making mattresses so expensive. Better quality materials will increase the price of a bed. 
Get the 10 inch mattress price in India on Medisleep that includes -
Medisleep 10 Inch Medium Firm Double Size Pocket Spring Mattress (Price-Rs.14,999)
Mattress has high-quality memory foam conforms to your body while the cool gel regulates body temperature, open-cell design allows for a greater circulation. This is designed with premium air-flow memory foam over a layer of gel-infused memory foam, and high density support base. 
SpringTek Euro Top Luxe Memory Medium Soft Foam Mattresses(Price-Rs.9,999)
Mattress has highly breathable, and hypoallergenic fabric for a hygienic, safe, and relaxing sleep. This is immensely durable, and resilient, integrated with certified technology that prevents germs, and odor, and offers excellent comfort & pressure relief. 
Medisleep 10 Inch queen size spring mattress (Price-Rs.12,000)
Mattress has an innovative, and intelligent foam technology that smartly adapts to any body shape seamlessly providing personalized comfort, and orthopedic support based on each body's weight, height, and sleep position. The outer cover is made from breathable fabric that wicks moisture, and dried quickly, it is abrasion, and pilling-resistant. 
Sleep Dual Comfort Mattress 10 Inch Mattress (Price- Rs. 7,998)
This mattress has a dual comfort choice firm for superior body support. It has medium soft for enhanced comfort fresh air-circulation with airmesh fabric. This has high resilience foam for pressure point ease, and soft knitted fabric for plush surface feel. 
Memory Foam Mattress Twin Size 10 Inch (Price-Rs. 13,938)
Mattress comes with premium open-cell memory foam with high density support foam. This best-in-class product has bamboo fiber fabric on top & has bird eye knitted side walls for durability. The mattress has an ati-skid base that helps your mattress stay in place. 
Peps Vivah 10 Inch Single Size Spring Mattress (Price - Rs. 6,675)
This Mattress is made of Organic Pin core Latex & high resilience support foam, this mattress marks a new standard in Hybrid Latex Mattresses. We crafted this latex combination mattress to produce a simple but high-quality mattress that is comfortable, durable, and safe. This gives a unique balance of softness, and comfort with firm support for your spine. This is made using the Dunlop process, which is free from any fillers or synthetics. It offers the best-in-class quality, and a pleasant sleep experience.